PixelOver
PixelOver 0.7 Parent-child scale and skew
---
Hello, here a huge update for 2D transform mainly adding parent-child scale and skew.
New features
Parent-child skew and scale.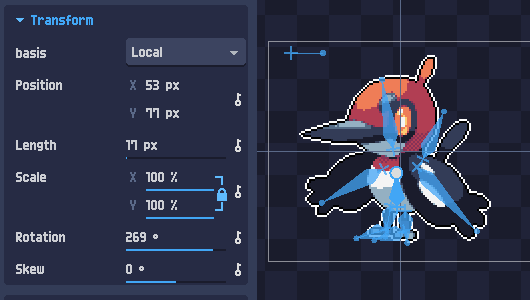 Custom canvas position and offset. The position and offset are centered by default to be easier to use for an animation tool.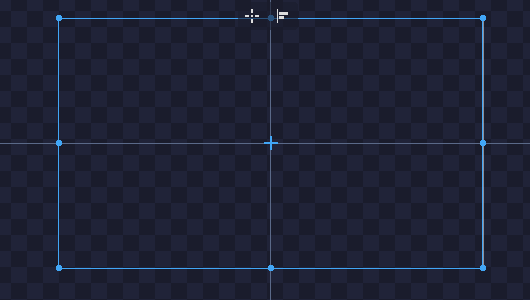 Tiled mode. Preview the repeats of the result.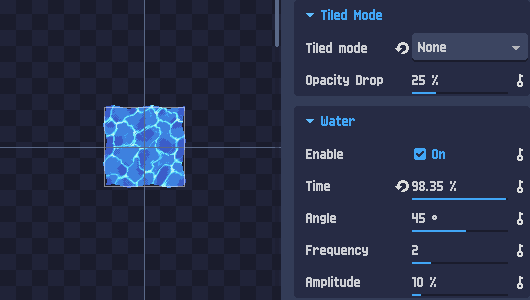 Aseprite export. Handle multi layers, animations and layer visibility and opacity.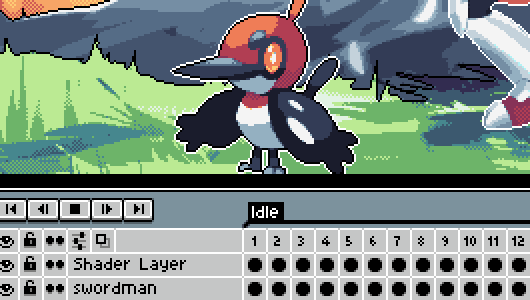 Changes
Gif export got an huge improvement, faster and not freeze the app anymore.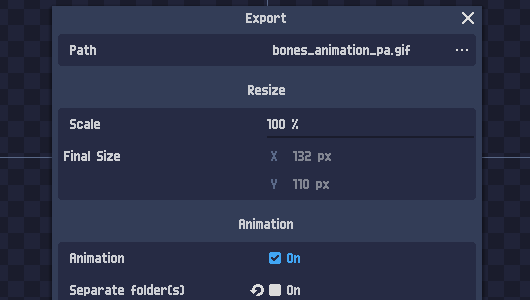 Improvement of pixelation to keep low details without making a too sharp result.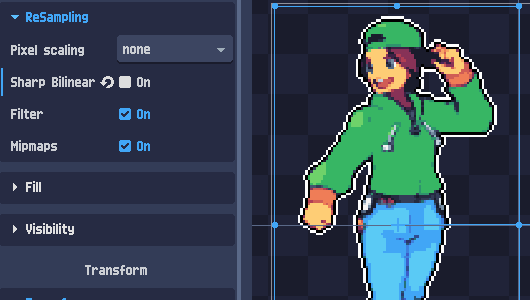 Improvement for transform tool. SHIFT to lock the ratio and unlock for diagonals. Resize to offset by default, press CTRL to resize to the opposite edge.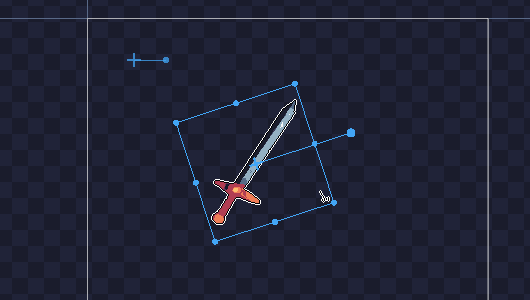 Animation add track now support multi selection.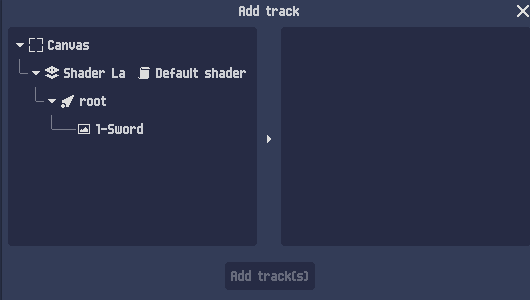 Bug fixes
| | |
| --- | --- |
| Bug | Ref |
| Trail fixes. Trail now displays for rotation only but no when there is no movement. | |
| Some fixes with undo redo. Some multi actions weren't taken into account. (ex: Move an object with auto add key) | |
| Multi animation keys movement fix. (Sometimes keys changed the space between them) | |
Available Main Features
Edit pixelation settings
Pre-adjustment Modulate color, hue, saturation, contrast and gamma.
Generate or import a palette from an image.
Manage palette colors.
Place pixel perfect inline/outline.
Use heightmap (or depth in 3D) to determine perfect internal lines.
Allow or not transparency and its minimum value.
Set filters and denoising for a smoother or sharper result.
Asset types
Import an image (png, jpeg, ...).
Import images, sprite sheets and animated images (gif).
Import animated 3D models (dae, fbx, ...).
Animations
Determine multiple animations for a project (ex for a character: idle, run, ...).
Key animation on pixelation settings (ex: scale up a sprite for a pixel perfect spawning animation).
Directly split sprite sheets in different animations (ex: select on the same sheet, idle frames, running frames, ...).
Export
Export result to images and animated images.
For 3D only, set model angles and other settings with default presets (ex: platformer, Top-down, ...).
Scene
Manage canvas and image transform.
Advanced transform, rotation, deformation.
For 3D only, manage camera and lights with default preset (ex: platformer, Top-down, ...).
Scene composition 2D.
Scene composition 3D.
General
Settings menu. General section, for example, to disable alert messages. Project section to define default values.
available features but could be improved.
New available features added with this version.

If you see bugs or want to propose features, you can do it at the community, thank you !
Files
PixelOver demo 0.7 Windows
14 MB
Sep 08, 2021
PixelOver demo 0.7 Mac
19 MB
Sep 08, 2021
PixelOver demo 0.7 Linux
16 MB
Sep 08, 2021
PixelOver 0.7 Windows
14 MB
Sep 08, 2021
PixelOver 0.7 Linux
16 MB
Sep 08, 2021