PixelOver
PixelOver 0.2 Advanced transform
---
New PixelOver release, hope you will like new transform features. Let's catch the bugs, then the next goal will be animated image integration !
New features
Advanced transform, you are now able to pixel perfect rotate and deform an image !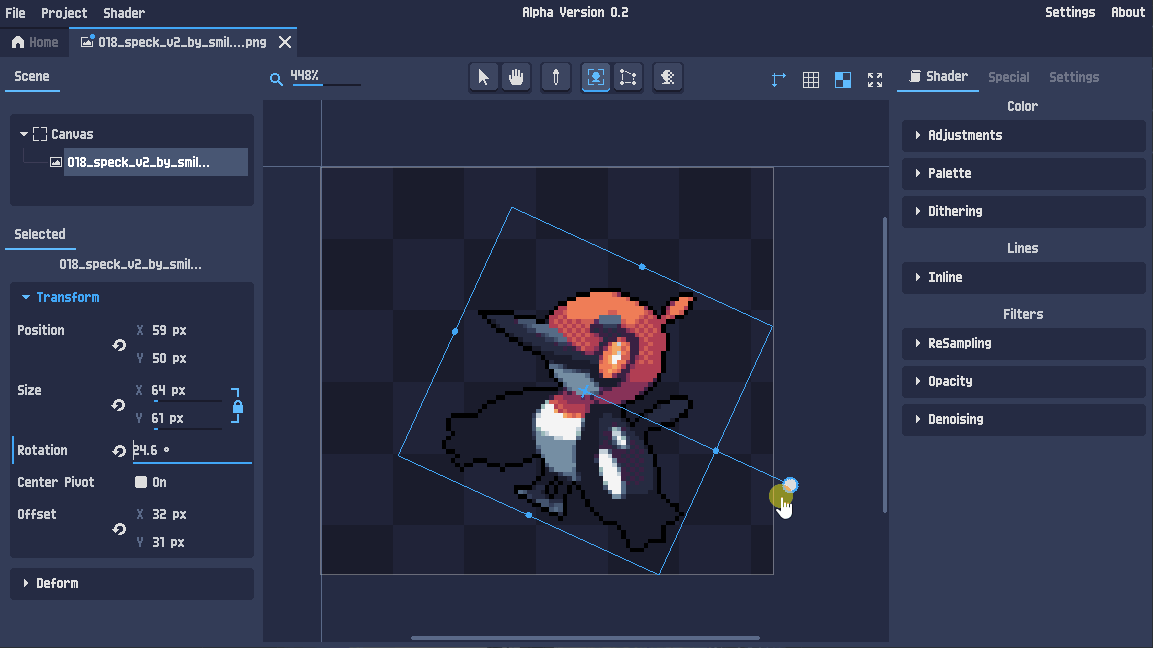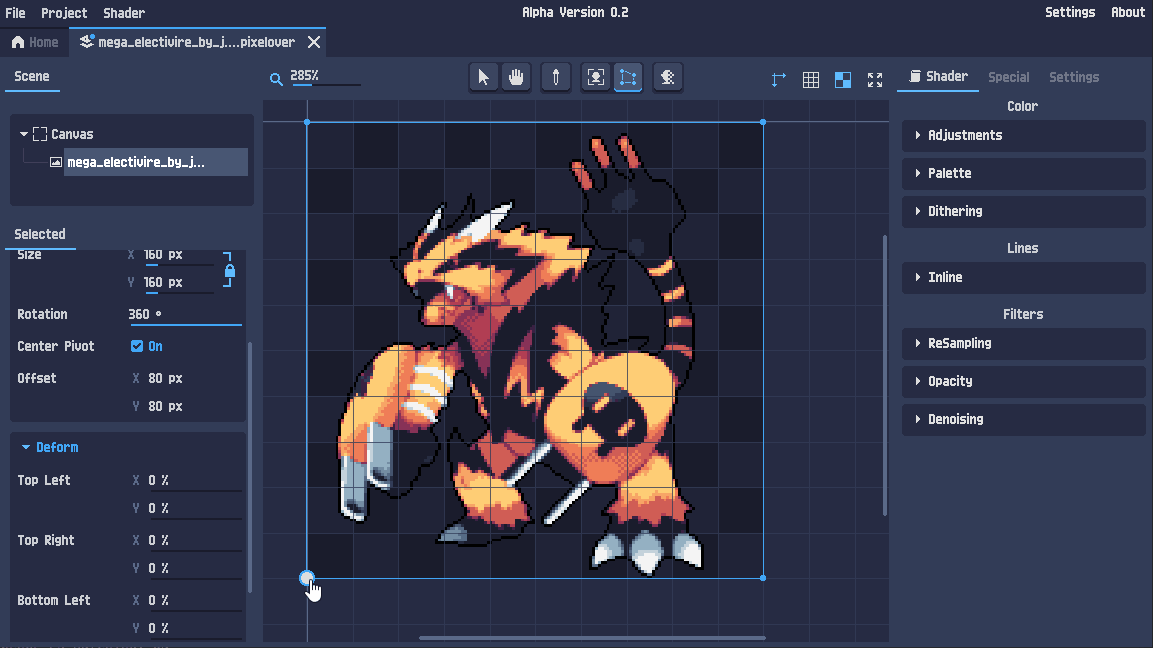 Axes and grid with dynamic customization and snap.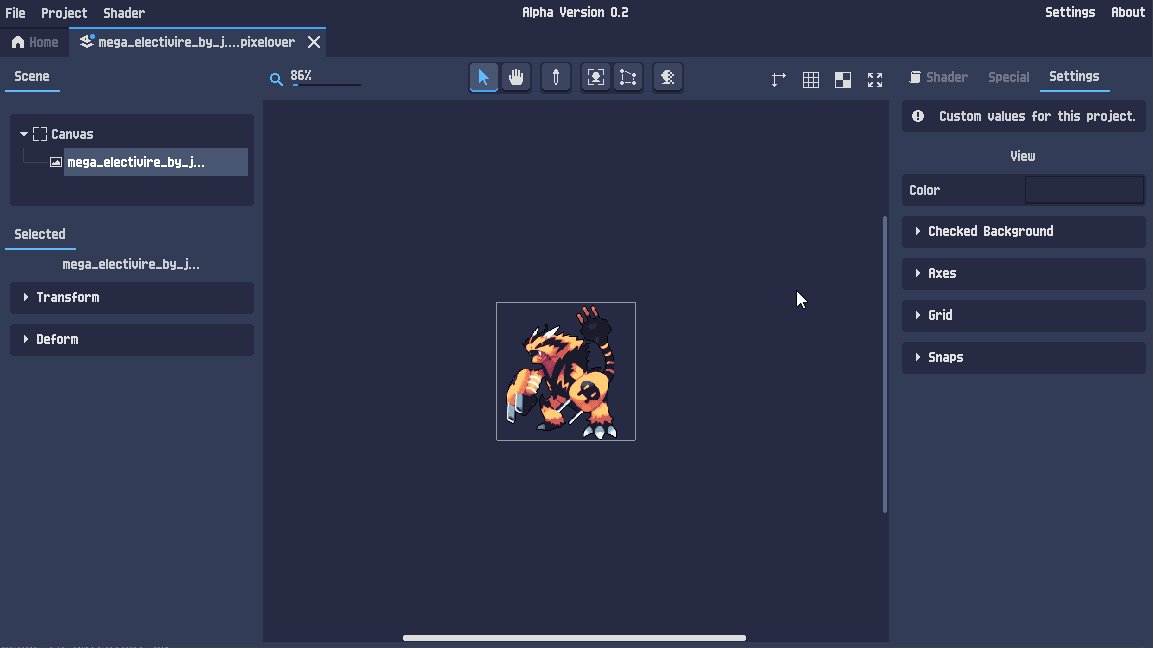 Changes
Moved the scene tab and selected object to a left panel. Far better to not have to switch tab everytime.
all the settings of current project are now in a settings tab.
All the settings are reset. It saved the settings even if the user doesn't custom them. So in this way new default settings weren't applied to new version, now only modified settings are saved.
Added buttons in right part of toolbar to toggle axes, grid and checked background.
Added shortcuts for tools, visible in the tooltips.

Added new global settings and an explanation about project settings.
Optimization in loading.
View scrolling and zoom far more ergonomic.
Automatic uncollapse and scroll on focused input.
Bug fixes
| | |
| --- | --- |
| Bug | Ref |
| One left click, stuck the mouse in a sort of loop of left clicking. After investigation by the author of the issue, it was linked to a controller with Steam open. | Link |
Available Main Features
Edit pixelation settings
Pre-adjustement Modulate color, hue, saturation, contrast and gamma.
Generate or import a palette from an image.
Manage palette colors.
Place pixel perfect inline/outline.
Use heightmap (or depth in 3D) to determine perfect internal lines.
Allow or not transparency and its minimum value.
Set filters and denoising for a smoother or sharper result.
Asset types
Import an image (png, jpeg, ...).
Import images, spritesheets and animated images (gif).
Import animated 3D models (dae, fbx, ...).
Animations
Determine multiple animations for a project (ex for a character: idle, run, ...).
Key animation on pixelation settings (ex: scale up a sprite for a pixel perfect spawning animation).
Directly split spritesheets in different animations (ex: select on the same sheet, idle frames, running frames, ...).
Export
Export result to images.
For 3D only, set model angles and other settings with default presets (ex: platformer, Topdown, ...).
Scene
Manage canvas and image transform.
Advanced transform, rotation, deformation.
For 3D only, manage camera and lights with default preset (ex: platformer, Topdown, ...).
Scene composition (multiple images on same scene for 2D, multiple modeles and lights for 3D).
General
Settings menu. General section, for example, to disable alert messages. Project section to define default values.
available features but could be improved.
New available features added with this version.

If you see bugs or want to propose features, you can do it at the community, thank you !

The price will be reajusted to fit the new features in one week.
Files
PixelOver demo 0.2 Windows
12 MB
Jan 24, 2021
PixelOver demo 0.2 Mac
17 MB
Jan 24, 2021
PixelOver demo 0.2 Linux
13 MB
Jan 24, 2021
PixelOver 0.2 Windows
12 MB
Jan 24, 2021
PixelOver 0.2 Linux
13 MB
Jan 24, 2021