Zelda like futuristic - tileset pack
A tileset and objects to make a zelda like game dungeon. For personal and commercial use, credit is apreciated but not necessary. You can modify the assets for your needs but not distribute them.
FEATURES
Godot demo with sources (You can try a free demo without the sources)

Move with arrows
Tilemap with autotiles and normal map
Node with behavior and animations
A complete 32x32 tileset

Futuristic dungeon
Around 100 tiles
Thought to be easily setup
With normal map
Objects
Spritesheet and sprites 32x32
Animated switch x2
Animated doors
Chest
Key
decoratives objects
All with normal map
You may like
I could improve it if you see something missing or wrong.
My twitter @deakcor
Purchase
Get this asset pack and 1 more for $9.50 USD
View bundle
In order to download this asset pack you must purchase it at or above the minimum price of $4.50 USD. You will get access to the following files:
Futuristic asset pack
54 kB
Comments
Log in with itch.io to leave a comment.
Love the look of this but having trouble using the tileset in RPG Maker MV, any assistance appreciated
Thank you, don't really familiar with rpg maker MV but they are using 48x48 tile size no ? This tileset has 32x32.
Love this asset pack! Fits the exact aesthetic I would like for my project. Was wondering if you could talk a bit about how you did the lighting effects? I'm not working in Godot (Gamemaker) so I can't see the sample project.
Thank you. Sorry i'm not really familiar with Gamemaker. Can Gamemaker handle normal maps?
yup! mhm it can. i'm not super familiar with it to answer much beyond that, but i know it can handle normal maps to light a 2d game. i literally googled normals gamemaker and found a pretty cool blog entry on it that i'll probably read up on later https://www.yoyogames.com/en/blog/using-normal-maps-to-light-your-2d-game (pasting here for anyone else's interest and my own future self).
Hi there,
this tileset looks fantastic! And is soooo close to what I'm looking for. I just wondering how well it scales up or if you have it at a high res version than 32x32?
I'm using 128x128 for my game and would be wanting to scale to that size. Do you have any versions at that res? Or any examples of it scaled up so I can see how it looks? Much thanks :)
Hi, as it's pixel art, for the right size the whole tileset should be remade in 128x128. Else you can just scale x4 the tiles but you may have dimensions issues in your game.

I'm a bit curious about a pixel art game with 128x128 tiles, do you have already a preview of your game or not ?
Hi Deakcor, I'm not really doing a pixel art per se. I'm experimenting and trying to use the feel of a pixel art game, but with higher res graphics. I'm using blender to make flat coloured low poly characters to attempt to make the game appear modern, but also trying to use pixel art style tiling and sprite sheets to give it a classic feel. That's the goal any way. I've still got a long way to go, but if you like I can send you some links when its a bit more ready.
Yep, seems you don't care about pixel size, so maybe you can just scale up 4x without any filter.
Hello,

I recently bought your asset pack and I noticed that there aren't any walls in those shapes, are they not included or am I missing something?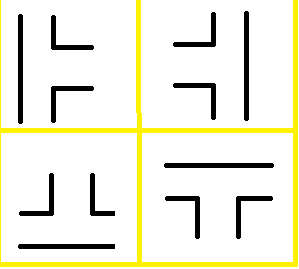 Hello, thank you for buying this pack. You are looking for something like that or the opposite ?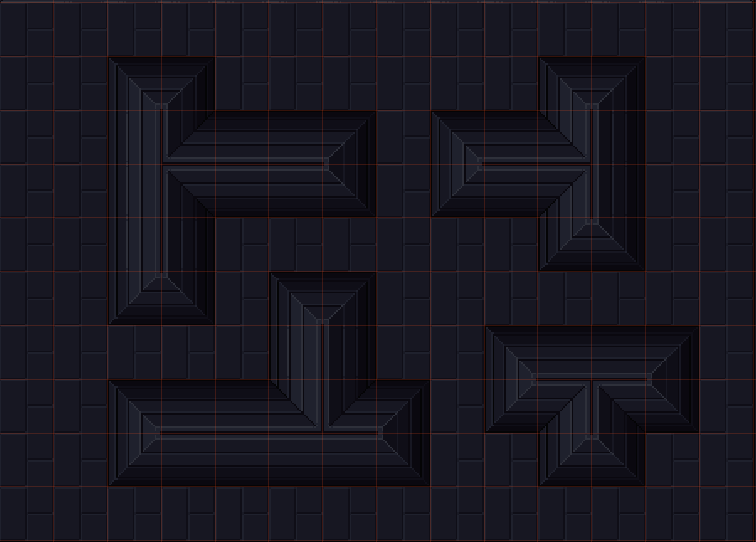 With the inner corners and outer corners, you can make all shape you want (with minimum 2 tiles width).

Here a example of autotiles setup.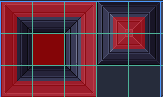 Hi,

I'm a game dev from Canada working on my first title.

My project is a 2D RPG game, so I'm using similar tech to what you've been developing.
I'm interested in having a conversation with you about some of the work you've done in 2D environments.

Is there a contact email I can use to reach out to you?
K-
ps. send me a pm

Hey, if you have twitter you can contact me at @deakcor. Else you can send me an email to deakcor.contact@gmail.com
Are there character assets in this tileset?
Hi, no only animated objects like chest, switch, etc..
I will make an other pack for character + monsters.